Staff Well-being Resources
"Rivers do not drink their own water;

trees do not eat their own fruit;

the sun does not shine on itself and flowers do not spread their fragrance for themselves.

Living for others is a rule of nature. We are born to help each other.

No matter how difficult it is. Life is good when you are happy but much better when others are happy because of you. Let us remember that pain is a sign that we are alive, problems are a sign that we are strong and prayer is a sign that we are not alone.

If we can acknowledge these truths and condition our hearts and minds, our lives will be more meaningful, different and worthwhile."

Pope Francis
Lumen Christi Catholic Multi Academy is founded on the values of integrity, compassion and service to others. We strive to apply these values to our whole community including the staff and volunteers who work so tirelessly to provide outstanding education, spiritual and enrichment opportunities and care for the children and families we serve.
Psalm 145:8 'The LORD is gracious and compassionate, slow to anger and rich in love'.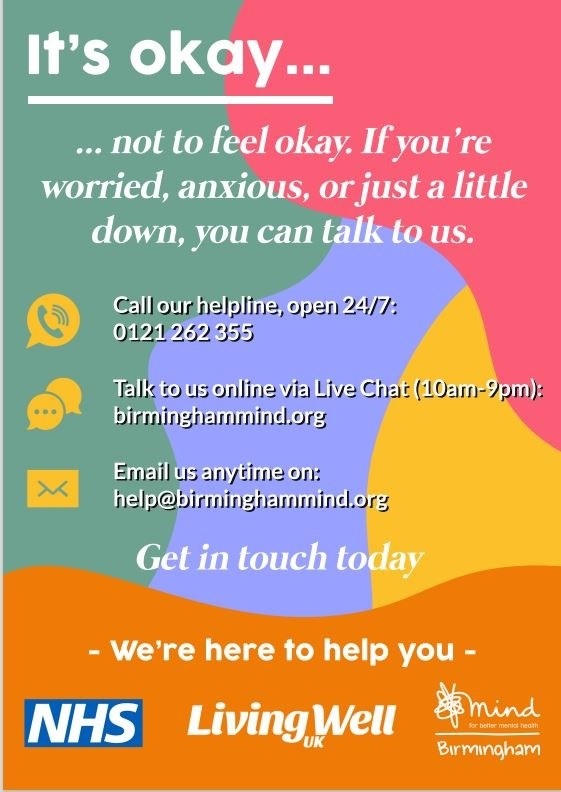 In their June 2020 publication 'Well-being guide for staff working in schools and trusts', NEOST and the Local Government Association commented:
'Schools and their staff are at the forefront of their communities and many parents and carers expect them to be calm, unflustered and to have all the answers. ...staff may be feeling anxious about 'getting it right for their pupils or they may be attempting to carry out their very important roles whilst dealing with the own personal situations and emotions.'
At Lumen Christi, we aim to create a supportive work culture which positively impacts on the psychological well-being on our staff and volunteers. In order to achieve this, we will be working together to ensure:
Leaders and managers are proactive - they will make time to talk about how staff are feeling
This means we will put staff well-being on the agenda, from the Board and HR Committee to School Standards Committees, Principal's collaborative meetings to CSEL one-to-one review sessions, leaders at all levels will be accountable for evidencing how they are being proactive in supporting well-being conversations, consultations and referrals.
Open and honest conversations about well-being are encouraged
We will put training and support into place for leaders and line managers to enable them to feel confident in having conversations with staff and volunteers about well-being and mental health. Safe spaces will be provided to encourage staff to open up without feeling judged or excluded.
If you, as a member of staff or a volunteer, feel there are issues affecting your ability to do your job, please be reminded that you have a responsibility to speak to you line manager - conversely, our responsibility is to ensure our leaders are equipped to be sensitive in response.
Well-being support is in available and people know how to access it
Lumen Christi will ensure that it has a comprehensive and continually updated network of mental health and well-being support available to staff and volunteers, as well as the wider school community. These will be readily accessible, with no threshold or qualifying conditions, and communicated effectively.
We review our work regularly to ensure offers are appropriate and helpful to staff/volunteer needs
Our work is reviewed regularly to ensure offers are appropriate and responsive to staff/volunteer needs. This work has to remain dynamic and reflect the needs of school community as they change and evolve. We will therefore undertake regular reviews, provide opportunities for staff and volunteers to feedback on the provision on offer and adapt accordingly.
Colossians 3:12-17 12Therefore, as God's chosen people, holy and dearly loved, clothe yourselves with compassion, kindness, humility, gentleness and patience.
BUILDING RESILIENCE
Isaiah 49:13 13Shout for joy, you heavens; rejoice, you earth; burst into song, you mountains! For the LORD comforts his people and will have compassion on his afflicted ones.
'Being resilient is the ability to cope under pressure and recover from difficulties. It allows you to take on new situations and demands positively, approaching this with a problem-solving attitude and keeping a sense of perspective...'understanding what needs to be done. It means being able to recognise and respect your own limits.'
The British Psychological Society (BPS) has produced a framework to support the enhancement of staff/volunteer resilience and identified three key areas of focus:
Belonging

Help-seeking

Learning
When we consider 'belonging', we need to recognise that people have an inherent need to belong to one another, it is therefore crucial that within Lumen Christi we reflect on how we foster a 'sense of belonging and connectedness'. Staff and volunteers at all levels should consider taking advantage of everyday opportunities to build in relational support, and opportunities to connect, with colleagues which may help them to feel valued and 'held in mind'.
The BPS suggests leaders and managers should consider:
Checking in with staff quickly, little and often through the use of texts, emails, and virtual staff meetings etc.
Explicitly encouraging staff to check-in with each other
Continuing to give everyday praise and feedback to ensure teachers still feel valued and that their efforts are recognised
Communicating updates regularly with all staff
Using online technology to create a 'virtual staffroom' where teachers can chat and check-in with each other
Being clear about the difference between times when staff should attend the virtual staffroom e.g. whole staff briefings, and times where it is optional
Creating 'buddy networks' so teachers have a small network of individuals they can contact when needed.
Help-seeking can be perceived as failing or being weak, it can create feelings of vulnerability however, many staff in education have reported that both seeking and being able to provide help contributes positively to their individual sense of resilience. At Lumen Christi, by focusing creating a culture where help-seeking behaviours are encouraged, valued and modelled by leaders, staff and volunteers; we want to develop a community-based understanding of resilience, cultivated through pre-existing relationships, as opposed to an approach which may suggest that teachers need 'expert' help or support right now. In summary:
We want all school staff to model help-seeking behaviours
We will enable staff to contribute to decisions e.g. through online consultation and ask explicitly if staff may need additional support and what this might look like
We will encourage colleagues to seek support from peers

– teachers report particularly valuing using peers as sounding boards

Collectively engaging

in initiatives that promote team reflection
We know our Lumen Christi team value the opportunity to learn and develop their sense of belief in their own abilities (self-efficacy) and that this in turn builds resilience. We also know that it is likely that at this time, many of our staff may be experiencing feelings of self-doubt, particularly as they try to develop ways of doing their job in uncharted waters. Therefore, we are encouraging all staff teams to learn together from their successes and failures every day, adjusting plans, trying new things out and reflecting on this (reflective practice). We can do this by:
Explicitly recognising reflective conversations as learning opportunities
Recognising learning as inherently challenging and an experience that can lead to feelings of self-doubt or vulnerability
Together, engaging in initiatives that promote team reflection e.g. a virtual staffroom and trialing a 'solution-focused' approach with a specific focus on doing more of what is working well
RESOURCES
There are lots of local and national organisations offering a wealth of resources, online and telephone support - please see links below. If you would prefer to talk to someone within Lumen Christi, you can either go to you line manager, Head of School, Principal or Executive Headteacher - you are also welcome to contact Hollie Parrish on
h.parrish@lumenchristi.org.uk
/ 07957 698 400 to find out more about services available to support yourself and your family.
The Education Support Helpline is available 24 hours a day, 365 days a year. It's for all staff, both academic and administrative, in primary, secondary, further and higher education, and offers services designed to:
- prevent a crisis from occurring
- reduce the impact of a crisis when it occurs
- help you to find solutions to problems by offering you tools to overcome difficulties in your life
The helpline provides free and confidential information, support, coaching, BACP accredited counsellors, advice on Education Support's in-house grants programme, and help to find other services or long-term treatment. So, whatever your need or worry, if you work in education, they're there for you.
The website includes information on how to access them by telephone, text, email or live chat. You can also download posters or order other marketing materials to help promote the helpline to colleagues.
Making simple changes in your life can make a big difference to your mental health. This guide has ten free, practical things you can do to take care of yourself and help get the most from life:
Talk about your feelings
Keep active
Eat well
Drink sensibly
Keep in touch
Ask for help
Take a break
Do something you're good at
Accept who you are
Care for others
Each tip has a page with more information and ideas, including videos and examples from real people. As well as being ideas for taking care of yourself, they could form a really useful basis for creating a supportive culture at work.
Birmingham Mind is the largest independent mental health charity providing services in and beyond the City of Birmingham's boundaries. Services are individualised, person centred and deliver valued outcomes. The charity passionately believes that everyone has the right to live lives that are meaningful and which enable them to reach their full potential as individuals. Birmingham Mind works in active partnership with a range of local organisations to deliver services and challenge the stigma that surrounds mental distress.
Telephone: 0121 262 3555
Email: help@birminghammind.org
Samaritans are available day or night, for anyone who's struggling to cope, who needs someone to listen without judgement or pressure. Samaritans is not only for the moment of crisis, but taking action to prevent the crisis. Providing people with ways to cope and the skills to be there for others; encouraging, promoting and celebrating those moments of connection between people that can save lives. Samaritans offer listening and support to people and communities in times of need.
Call: 116 123 to speak to a Samaritan, 24 hours a day, 365 days a year.
Psalm 147:3 3He heals the brokenhearted and binds up their wounds